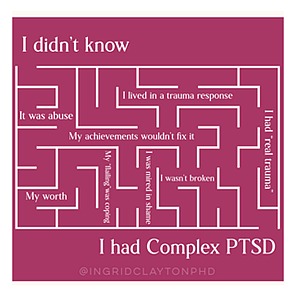 Before reading The Body Keeps The Score, Brain Mind and Body In The Healing of Trauma I thought childhood trauma could only happen when a child was sexually or physically abused. Yet, here I was, reading page after page by leading trauma expert Bessel van der Kolk, M.D., who stated that I didn't have to be sexually or physically abused to experience trauma. 
According to Van der Kolk, being raised by an alcoholic, depressed mother who went on drunken tirades against her husband on a regular basis provided more than enough toxic stress for me to become traumatized. Realizing this for the first time was totally mind-blowing.
After experiencing so many epiphanies after reading The Body Keeps the Score, I felt compelled to read everything I could get my hands on about childhood trauma and how to heal. I also began researching many subtopics of trauma, including the link between trauma and various trauma symptoms, such as addiction, obesity, anxiety, depression, and relationship difficulties.
I was also drawn to studying trauma's impact on attachment styles, resilience, and post-traumatic growth. This research played a key role in helping me better understand how trauma had impacted me and what types of trauma-based therapies and practices would best serve my healing.
Over a five-year period, I listened to or read dozens of books and blogs, visited countless websites, and attended several conferences, conventions, and movie screenings related to childhood trauma. I went through family photos and spoke to family members to gain a deeper understanding of what had happened to me and what had happened to my parents growing up.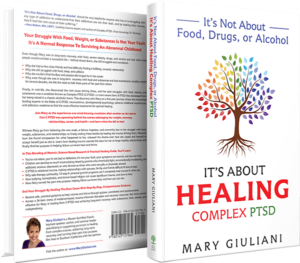 In many ways, I felt like a forensic psychologist searching for and sifting through mountains of clues and evidence from all the books and media I found to make sense of what had happened to me. It was this discovery that lit a fire under me to write It's Not About Food, Drugs, or Alcohol: It's About Healing Complex PTSD.

In it I share what I experienced as I uncovered layer after layer of how childhood trauma had impacted me throughout my life. I discuss the context of what led to my trauma, how it changed my brain and influenced my behavior, identity and worldview, how I coped, and who I became. Most importantly, I share what I did to heal.